How To Pass The Abu Dhabi Theory Test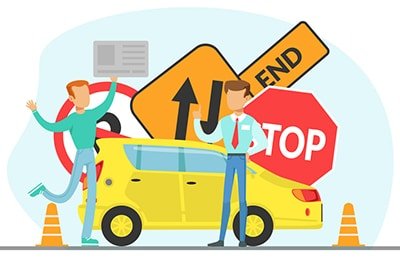 It is easy to underestimate the Abu Dhabi driving theory test. It is just a bunch of questions that you can pass with a little bit of general knowledge, right? Apparently, it isn't. There is no way you can pass the Abu Dhabi theory test without reading or studying for it. In fact, at least a third of candidates flunk the Abu Dhabi driving test on their first attempt. Don't become a statistic!
Suffice to say, if you want to pass the Abu Dhabi theory test, there are a few crucial things you must do. Not to mention, passing the Abu Dhabi theory test on your first attempt will charge up your confidence momentum leading up to the driving test.
Read and Memorize the RTA Handbook 
Most of the questions on the Abu Dhabi theory test will be derived from the RTA handbook. Make sure you cover the handbook from page to page without leaving a single important detail behind. To make it easier to memorize, you can write down all the important information on a notebook. Pay closer attention to the hazard section especially the parts highlighted in red boxes.
Don't consider yourself ready until you've comprehensively studied the RTA handbook.
Enroll for Theory Classes
Even if you've completely covered the RTA handbook, you will be required to attend at least 8 theory classes either online or onsite at an accredited Abu Dhabi driving school. Use it as an advantage to sharpen your recollection skills and discuss what you read on the RTA handbook. Furthermore, it is easier to remember details after you read it and attend a lecture to have an instructor explain them.
The lecture instructor could also give you some advice that would be helpful later during your driving test.
Take A Few Mock Tests
Since a mock test is designed to mimic the real theory test, it will tell you whether or not you're likely to pass the theory test. The more often you take it, the more your chances of passing the Abu Dhabi theory test. Furthermore, if you fail a few questions, you will know your weak areas which you should revisit before the theory test.
You can download the RTA Abu Dhabi app for free which will provide you with a platform to engage in 35 multiple choice mock questions. After you're done with the practice questions, the app will promptly notify you whether you passed or failed.
Additionally, if you want to pick out correct traffic signs and their implications, check out the RTA Abu Dhabi website. There is a traffic sign mock test that entails 10 questions with multiple choices, and a real-time update on the correct answers.
Sometimes, candidates get a few questions that they answered on the mock test repeated on the actual theory test. Something about luck!
Avoid nervousness and fatigue
It is normal to feel a little nervous a few days prior to the theory test, but what do you do about it? A workout routine like cycling, jogging or sprinting may help relieve the pressure. At the same time, you should keep negative thoughts off your mind and focus on the positive and confident approach. Think of the theory test as just an exam that you've taken a million times before and passed.
On the night before your theory test appointment, avoid staying up all night cramming or going out for drinking and partying. Another thing, don't skip breakfast before your theory test appointment unless you want to experience an attention deficit. Not to mention, skipping tea or coffee will give you a minor headache making it harder to concentrate. However, don't drink too much caffeine since it is known to induce nervousness.
Follow the test instructions
It is surprising; there are candidates who fail the Abu Dhabi driving theory test just because they didn't follow simple instructions. Before you start the theory test, you will be shown a 10 minute tutorial of how you should take the test. As obvious as the tutorial might appear, it is very important you understand the instructions.
For every question you will be asked on the theory test, you will be given three multiple choices to select. You have to consider the time factor since you will be expected to complete 40 questions in 45 minutes. Out of the 40 questions, there will be 5 hazard perception questions which will involve you being shown videos on screen for at least 25 seconds and being told to choose an option within 10 seconds.
Be very observant while watching the visual clips during the hazard perception test since most candidates fail at that stage. Usually, you will be expected to identify a hazard in the video clip and react accordingly. For instance, if there is fog, rain, sun flair, or sand storm hazard, the ideal option would be to slow down.
A hint for the hazard perception: if the 10 seconds to answer isn't enough time, quickly read the last words of the question to get a clue and select your option, then re-read it again. Also, keep in mind, most hazards can be spotted in the last few seconds of the video.
For you to ace the theory test, you must accumulate 12 points from 17 common questions and 13 points and above out of 18 specific questions. On the other hand, you must correctly answer 4 out of the 5 hazard perception questions.