Everything You Need to Know About The UAE Driving License Test
If you want to drive in any of the seven emirates that are part of the United Arab Emirates, you need to acquire a UAE driving license. But first, you must pass the UAE driving test before you acquire a driver's license. Fortunately, we've done our homework and we'll be discussing everything you need to know about the UAE driving license test.  
Let's get down to it, shall we?
Eligibility Criteria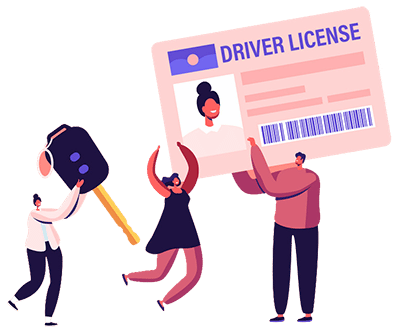 If you're a UAE citizen or a resident, you must first enroll in a registered driving school in the emirate and attend all training classes before you're allowed to take a driving test.
However, you must be medically fit and above the minimum legal age to acquire a driver's license. For instance, if you want to drive tractors and heavy commercial vehicles, you must be 20 years and above. But if you want to drive a bus in the UAE, you must be 21 years and above.
On the other hand, applicants who want a license for cars and light vehicles musty be 18 years and above. Similarly, if you just want a motorcycle license, you could apply if you're 17 years and above.
The registered driving institutes accredited in the UAE include:
Emirates Driving Company (Abu Dhabi)
Dubai Driving Centre (Dubai)
Al Ahli Driving Centre (Dubai)
Belhasa Driving Centre (Dubai)
Emirates Driving Institute (Dubai)
Galadari Driving Centre (Dubai)
Ras Al Khaimah Driving Academy (Ras Al Khaimah)
Sharjah Driving Institute (Sharjah)
Fujairah National Driving Institute (Fujairah)
Driving License Exchange
It's possible to acquire a driver's license in the UAE without taking a road test, but you must have a valid driver's license from a foreign country that can be exchanged for a UAE license.
The exempted countries that you can exchange your home driver's license for a UAE license include: U.S.A, Canada, United Kingdom, Austria, Qatar, Saudi Arabia, Bahrain, Oman, France, Germany, Japan, South Korea, Singapore, Sweden, Spain, South Africa, Kuwait, Turkey, New Zealand, Italy, Australia, Belgium, Finland, Denmark, Holland, Greece, Romania, Hong Kong, Ireland, Norway, Portugal, Poland, and Switzerland.
However, if you have a driver's license from the exempted countries, you must be a citizen of that state to be processed and acquire an Emirati license. Beyond that, your foreign driver's license must be translated into English or Arabic before you exchange it for a UAE driver's license.
Another thing; you're required to pass an electronic eye test and have a valid UAE resident ID to be processed. But if you're not from the exempted countries, you need to take the knowledge test and driving test to get an Emirati driving license.
Required Documents
Before you enroll in a registered driving center, you will need the following documents to open a traffic file:
A copy and original passport with visa if you're a foreigner.
A resident ID.
Eye test certificate.
2 passport photographs.
No objection letter.
Current driving license.
Examination Process
Once you've enrolled in any registered driving institute in the UAE, you will be required to take the following exams before you qualify for a UAE driver's license:
The Theory Test
This is usually done after you've completed at least 8 hours of lecture classes. The first segment of the theory test consists of 17 multiple choice questions and you're expected to answer not less than 11 questions correctly to proceed to the next part.
For the second segment, you will be expected to correctly answer a minimum of 12 questions out of 18 multiple choice questions to get a pass. This means out of 35 questions in your theory test, you should correctly answer a minimum of 23 questions to proceed to the next stage.  
The Parking Test  
After you've completed all the practical training lessons, you will be eligible to take the parking test at your registered driving school.
During the parking test, the examiner will evaluate how you perform different maneuvers such as hill parking, angle parking, parallel parking, emergency stop, and garage parking.
Internal Assessment Test
The assessment test is done internally by your driving school instructor. It's basically a 10-minute mock test to gauge if you're ready for the driving test. Once your instructor is satisfied with your driving skills, you will be advised when to book the road test.
Keep in mind that you will be required to complete city road and highway practical classes before you book the driving test.  
The Driving Test
The driving test is the final part of the examination process before you acquire an Emirati driving license. The road test could take between 10 minutes to half an hour depending on the examiner's requirement. Once you've passed the driving test, you will be handed an approval letter which you will submit to acquire your UAE driver's license.