What to Expect During The Abu Dhabi Driving License Test
Many candidates partake in the Abu Dhabi driving license test on a daily basis, but only a few come out on the other side with a license. In fact, less than 50 percent of the candidates who enrolled for the Abu Dhabi driving test are successful in their first attempts. Even after taking numerous driving classes, things turn out to be different during the actual test.
Hence, it could be that most candidates are surprised by the unexpected twists. For instance, it is quite common for candidates to misinterpret or misunderstand the examiner's instructions. Sometimes, it is not black and white but rather shades of gray. It is only logical that if you're preparing for the Abu Dhabi driving license test, you know what to expect. At least by doing so, you will avoid getting caught unaware along the way.
The Parking Test
Halfway into your driving course, you will be eligible for the parking test. The parking exam will involve the following;
Emergency braking- Usually, you will be instructed to drive a vehicle at a high speed and break suddenly. The local examiner will be evaluating your reaction time and control skills in case of an emergency situation.
Garage parking- You will be given 3 minutes to park the vehicle in a marked bay area while moving in reverse.
Parallel parking– This is usually the toughest parking challenge for most driving students, but you will be given at least 5 minutes to complete it. First, you will be required to park the vehicle parallel to the sidewalk or curb of the road without hitting anything. After parallel parking, you will be expected to drive out of the tight parking spot using the little room at your disposal.
Angle parking- Just like garage parking, you will be given 3 minutes to perform this maneuver. The local examiner will ask you to park the vehicle at a precise angle.
Hill driving and parking- A little drive up a slope and you will be told to stop and park the vehicle halfway. The objective is to stop and park the vehicle without it rolling backward. Afterward, you will be instructed to continue driving uphill.
The parking test will be done in a secluded yard without any other cars around. It will serve you best if you treat the parking test seriously, even though it isn't the final driving test. Whenever you're making parking maneuvers, pretend there is traffic around by checking your mirrors and doing a few head checks.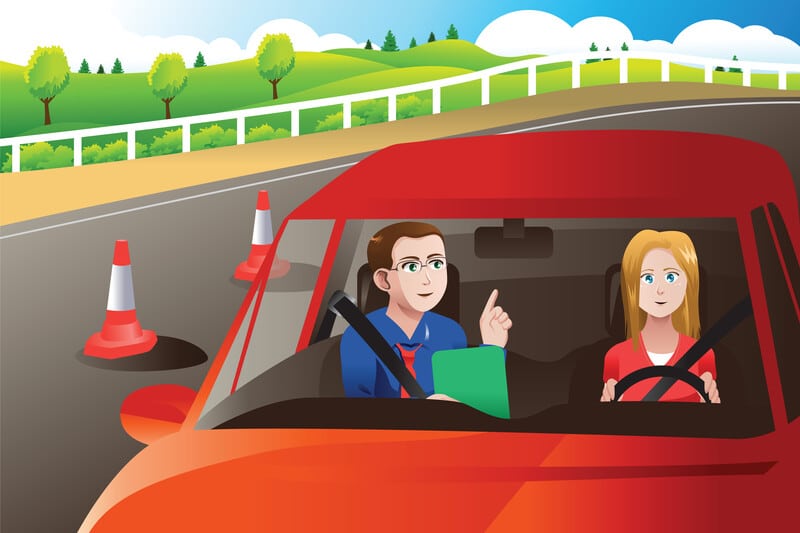 Assessment Test
When you're almost done with all your driving lessons, the driving school will put you through an assessment test to know if you're ready for the ultimate road test. However, the assessment test is not administered by an RTA representative but it is usually the driving school supervisor who is in charge.
The whole concept of the assessment test is to mimic the final driving test. At this point, it is very crucial to identify your shortcomings to avoid making the same mistakes during the final driving test. Moreover, if the assessment test pinpoints areas you need to improve, the driving school supervisor will recommend remedial classes to sharpen up your skills.
You will also be asked to drive independently to a pre-selected location without any direct navigation support. Prior to the task, you will be taught how to drive independently by your driving instructor and given at least 3 different route maps to help you out. Apart from knowing if you're a capable driver, the independent driving test will instill confidence in preparation for the final test.
The Driving Test
After everything is said and done, the driving test is the last hurdle you need to overcome before you acquire a Dubai driving license. It is at this stage that most candidates have their expectations crushed or fulfilled; hence you can't afford to do silly mistakes.
The driving test will be done on an open road and you will be given at least 15 minutes to impress the examiner. Within those few minutes, the examiner will take you to the highway, roundabout, intersections and parking spots. During the driving test, the examiner will be analyzing your confidence level and driving skills.
Some of the criteria the examiner will use to judge if you meet the minimum threshold to pass include; pre-start routine, mirror and head checks, signals, speed, lane shift, overtaking, stop position, roundabout procedure, safety margin, approach, left turn, right turn, parking skills, judgment and road gear position.
Nevertheless, there are certain major mistakes that the examiner cannot tolerate. For instance, if you don't stop for at least 3 seconds at a stop sign/line or a red light, the test will be over for you. Other major mistakes that could guarantee an instant fail include loss of control, proceeding to make a turn or merge into a roundabout or lane while the road is not clear and driving through a yellow box or a no-entry zone.
Some examiners also tend to give out instructions and leave room for interpretation. For example, you could be driving on the furthest right lane on the highway and the examiner tells you to proceed straight into the main road. In other words, the examiner could be telling you to switch lanes and merge into the middle lane. There is another possibility that it could mean something else entirely. Therefore, it is wise to politely ask the examiner to clarify a vague instruction if you don't understand.